BBC Sport Editor Dan Roan has apologised on Twitter after being caught on camera claiming the former beauty queen killed alongside the Leicester City owner was his mistress.
Dan Roan standing next to the shrine with tributes when he made the comments
Social media users were furious at the 'disrespectful' and 'insensitive' views
He suggested Nusara Suknamai was Vichai Srivaddhanaprabha's mistress 
Sports editor was later forced to apologise for his comments on Twitter  
Roan was standing outside Leicester's King Power stadium when his private conversation was picked up by a nearby camera recording for an online live stream.
Standing next to the thousands of tributes left by fans, he was filmed talking about Vichai Srivaddhanaprabha's personal assistant Nusara Suknamai.
Referring to Ms Suknamai, he said 'As opposed to the mistress who died in the crash, otherwise known as member of staff, i.e. mistress… family man…'
He then added: 'But that's what you do if you are a billionaire or royalty, it's relatively expected so we shouldn't judge.'
The senior journalist Roan apologised on Twitter for the mistake, posting: 'Just want to say sorry for some comments made in a private, off-air conversation earlier with a colleague. Absolutely no offence intended.'
The ex-beauty queen turned personal assistant was killed in Saturday night's horror helicopter crash, along with her boss, 60, his pilot Eric Swaffer, 53, his girlfriend Izabela Roza Lechowicz, 46 and another employee Kaveporn Punpare.
The reporter's comments provoked outrage among grieving Leicester fans.
One user wrote: 'It doesn't matter that it was private, or off-air, you were stood 5 yards away from his memorial.
'So disrespectful, so thoughtless and 'hurtful.'
'You should be ashamed. Please don't come anywhere near my football club again.'
Another user also suggested the senior editor might not be welcome at the club anymore, he said: 'Please leave Leicester and do not return.
'I don't care if it was a private, off air conversation.
'The fact you've said what you have in our darkest hour shows what kind of person you are.'
Roan was picked up on a Sky News live feed broadcasting to thousands on video sharing website YouTube.
A spokesman for the BBC added: 'This was an ill-judged comment made in a private off-air conversation for which Dan has apologised.'
Ms Suknamai came second in Miss Universe Thailand 2005 and was crowned Miss Intercontinental Thailand.
She was awarded the Miss Photogenic accolade in the Bangkok-based contest the same year.
She was active on social media, regularly posting snaps of her globetrotting, from Italy, Japan and Greece to escapes to the Cotswolds and beside stars including Jamie Vardy, Gareth Southgate and Harry Maguire.
Just one day before she died she enjoyed a meal with friends at top Greek restaurant Estiatorio Milos in London's Regent Street, where she happily posed for pictures.
After a stint in the modelling world, she was hired by Leicester's billionaire owner, father-of-four Mr Srivaddhanaprabha.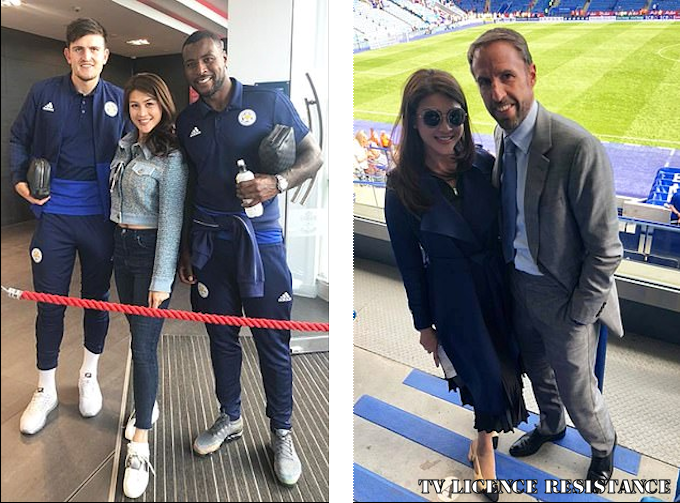 She died after Mr Srivaddhanaprabha's helicopter plummeted 200ft and crashed into the car park at the King Power stadium at 8.30pm on Saturday.
It had taken off from the centre circle of the club's ground, but witnesses claim the engine cut out mid-air and it spiralled out of control.
Instead of crashing into the stands and hospitality areas the aircraft came down on empty land 200 yards from the stadium.
It avoided busy roads and the last of the 31,000 fans still in the area along with dozens of police officers.
Pilot Mr Swaffer was hailed a hero, but experts suspect the aircraft's tail rotor failed, sending the £6million AugustaWestland AW169 into a 'dead man's curve' that even the best pilot would not have been able to handle.